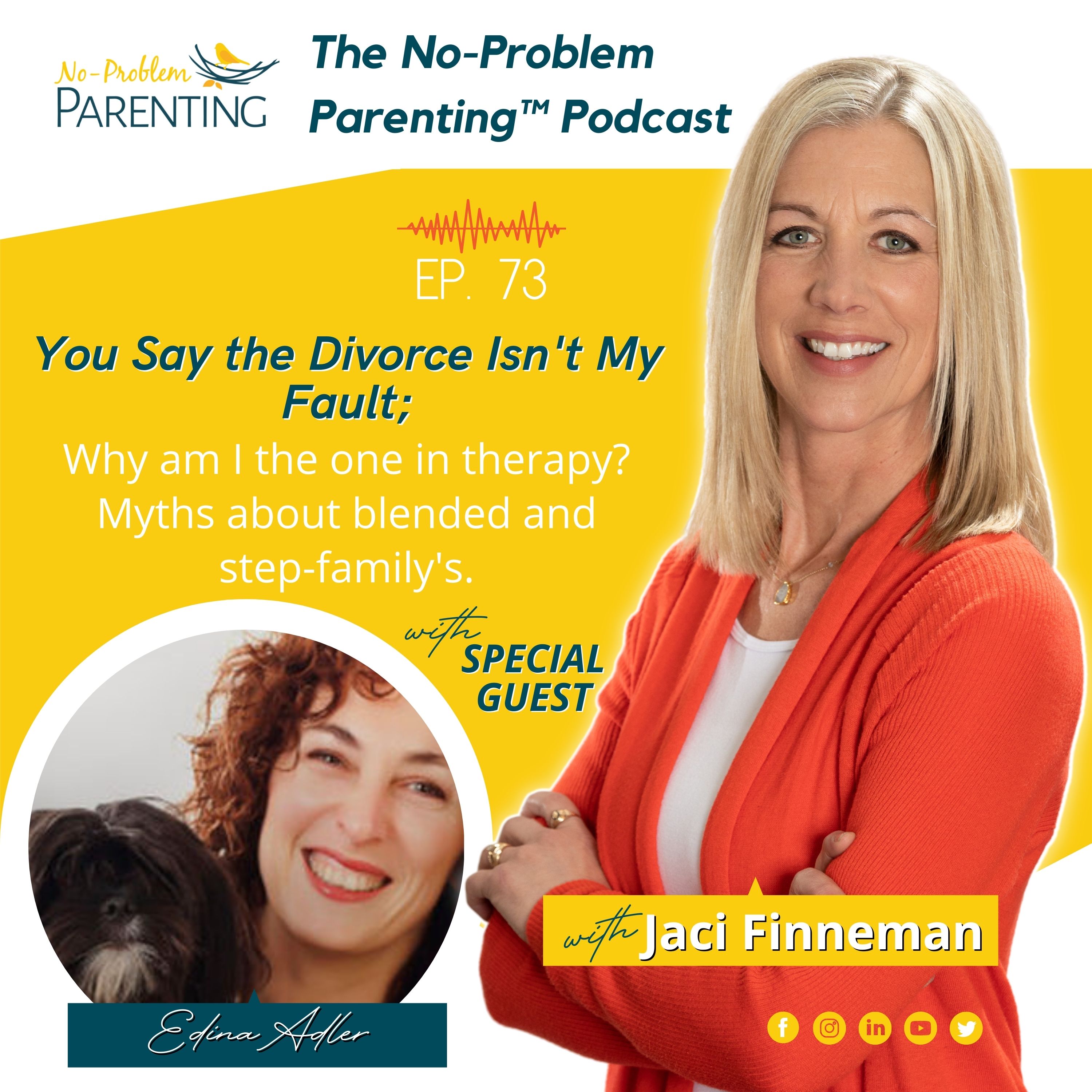 Welcome Back No-Problem Parents!
Are you experiencing a lack of respect, mistrust, or rejection as the step-parent of a child? Are you concerned for your kids and how they're coping with your divorce? Do you wonder whether or not you should bring them to a therapist? 
In today's episode my special guest is going to share some common myths of step-parenting and blended family's. She stresses the importance of connection before correction and how to name the problem before you try to tame the problem.
Meet Edina Adler (MA, LCSW). Edina coaches parents, couples and stepfamilies - her specialty. Her goal is to help families transform conflict into opportunities for deeper intimacy and compassion so that everyone can thrive.
Starting in 2009, Edina has been a full-time step-parent for two amazing children who are now a high school senior and college student. Both of her parents were sculptors, and she honors their influence in her practice, often utilizing art and play therapy. She sometimes brings along Pluto, a therapy dog.
After working with traumatized children and parents in the foster care system, Edina was trained to be a Therapeutic Foster Parent, and in turn trained other parents. She has worked as a counselor in an Oakland middle school and a local charter high school. A long-time practitioner of mindfulness-based meditation, she brings an interest in spiritual traditions blended with a passion for the therapeutic applications of the arts.
Edina earned an M.S.W. from UC Berkeley and an M.A. from New York University's School of Education. She holds a certification as a Family Court (child abuse and neglect cases) and Divorce mediator, and practiced in both New Mexico and New York. Edina has also taught conflict resolution, mediation and managing diversity in nonprofit and school settings for almost 20 years, and as a college adjunct instructor, on the East Coast and in the Southwest.
Edina is available for speaking engagements and is an authority on the topics of: stepfamily dynamics, parenting and transforming conflict to achieve a more loving home environment.
To learn more about Edina and her services, click on one of the following links:
Website: www.stepbystepfamilycoaching.com
Fcebook: https://www.facebook.com/groups/2215480758777011
Email Edina at morelovinghome@yahoo.com and she will send you her 10 Dos and Don'ts of Raising a Stepchild
Want access to ALL of Jaci's favorite resources, trainings, parenting course and all things No-Problem Parenting?
Check out our NEW Resource page!
Learn more at https://www.noproblemparents.com/ and click on the Resources Tab at the top of the page!
Ready to get started and become the confident leader your kids crave you to be?
Join our Private Parenting Community: https://www.noproblemparenting.com/
Hugs and High Fives,
Jaci