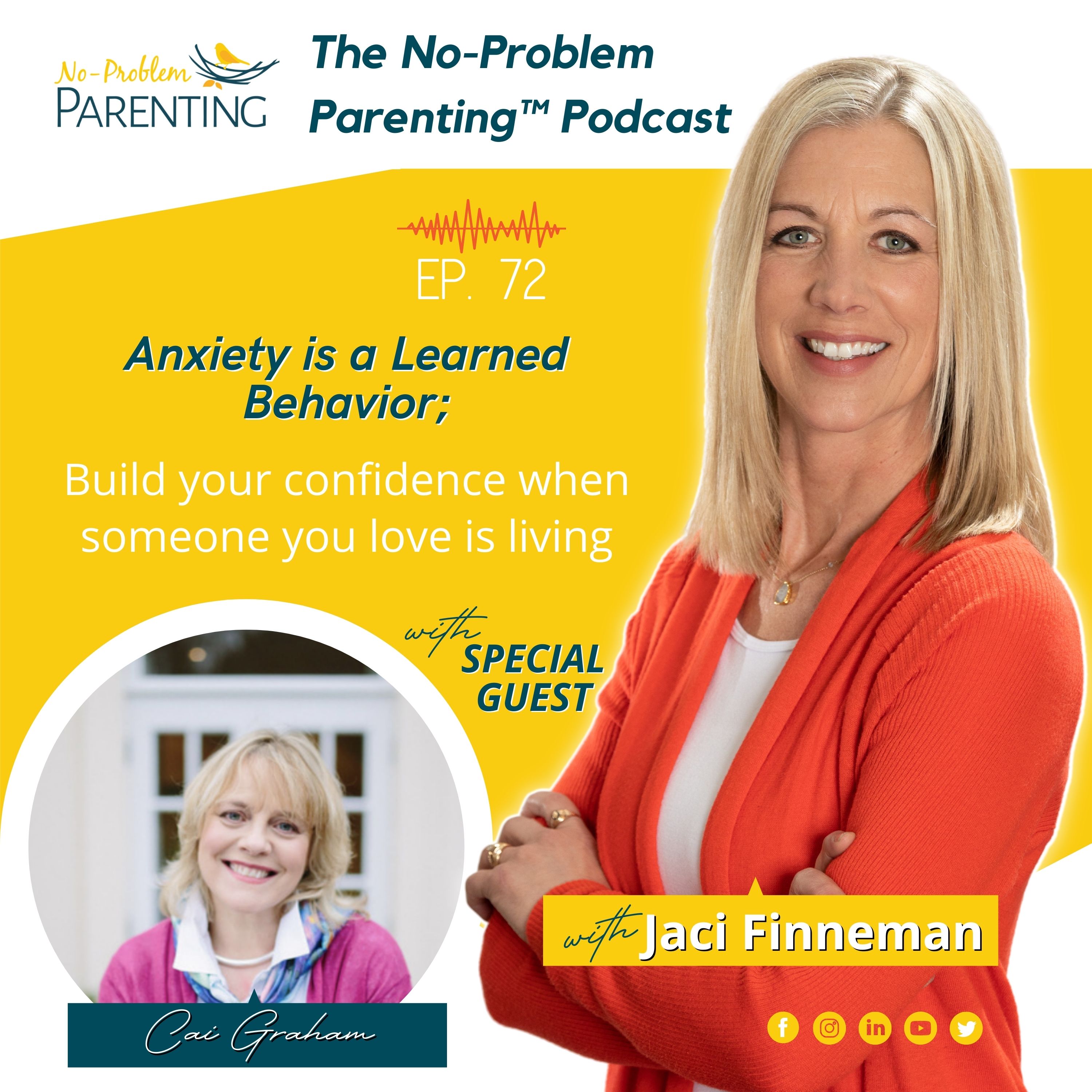 Welcome Back No-Problem Parents!
Are you or your child struggling with Anxiety? Did you know that Anxiety is a learned behavior?
My guest today is going to give us the KEY to managing anxiety which is to first UNDERSTAND what anxiety is!
She'll share how to find the triggers, and some tips to beat anxiety for yourself and your children and teens!
Meet Cai Graham. Cai is a Parenting & Teen Mentor, Podcaster, International Speaker, and Amazon #1 bestselling author of The Teen ToolboxTM️.
Her mission is to help parents to support their children so that together we can build a mentally healthier and happier generation of young people.
Cai is a Mum of two 'adorable' young adults, Jack 28 and Alice 26 - so she has been deep in the parenting trenches.
She has blended nearly three decades of motherhood with her background as a Master Practitioner in: NLP, Hypnotherapy, and Coaching; together with her experience as a ChildLine counsellor and HomeStart volunteer Cai created her TEEN ToolboxTM️ Series which provides parents and teenagers with the tools to successfully navigate the vital (and sometimes rocky) stages of adolescence.
To learn more about Cai click on one of the following links:
Website: caigraham.com
Email: cai@caigraham.com
10 Tips to Support Your Anxious Child (freebie): https://www.caigraham.com/anxietytips
Facebook: https://www.facebook.com/cai.graham
Facebook group: https://www.facebook.com/groups/ParentsTEENToolbox/
Instagram: https://www.instagram.com/caigraham/
Podcast: https://www.caigraham.com/podcast/
YouTube: https://www.youtube.com/channel/UCKfPLv5V3qbcfjxB5x-DEvg/playlists
Have you checked out our resource page on The No-Problem Parents website? SOOO many resources to help YOU Become the Confident Leader Your Kids Crave You to Be!!! https://www.helloworldmn.com/resources
Want access to ALL of Jaci's favorite resourcestrainings, parenting course and all things No-Problem Parenting?
Learn more at https://www.noproblemparents.com/
Ready to get started and become the confident leader your kids crave you to be?
Join our Private Parenting Community for just $197 now through August 30, 2022! https://helloworldmn.simplero.com/purchase/129119-No-Problem-Parenting-Membership/coupon/SUMMER2022
Hugs and High Fives,
Jaci