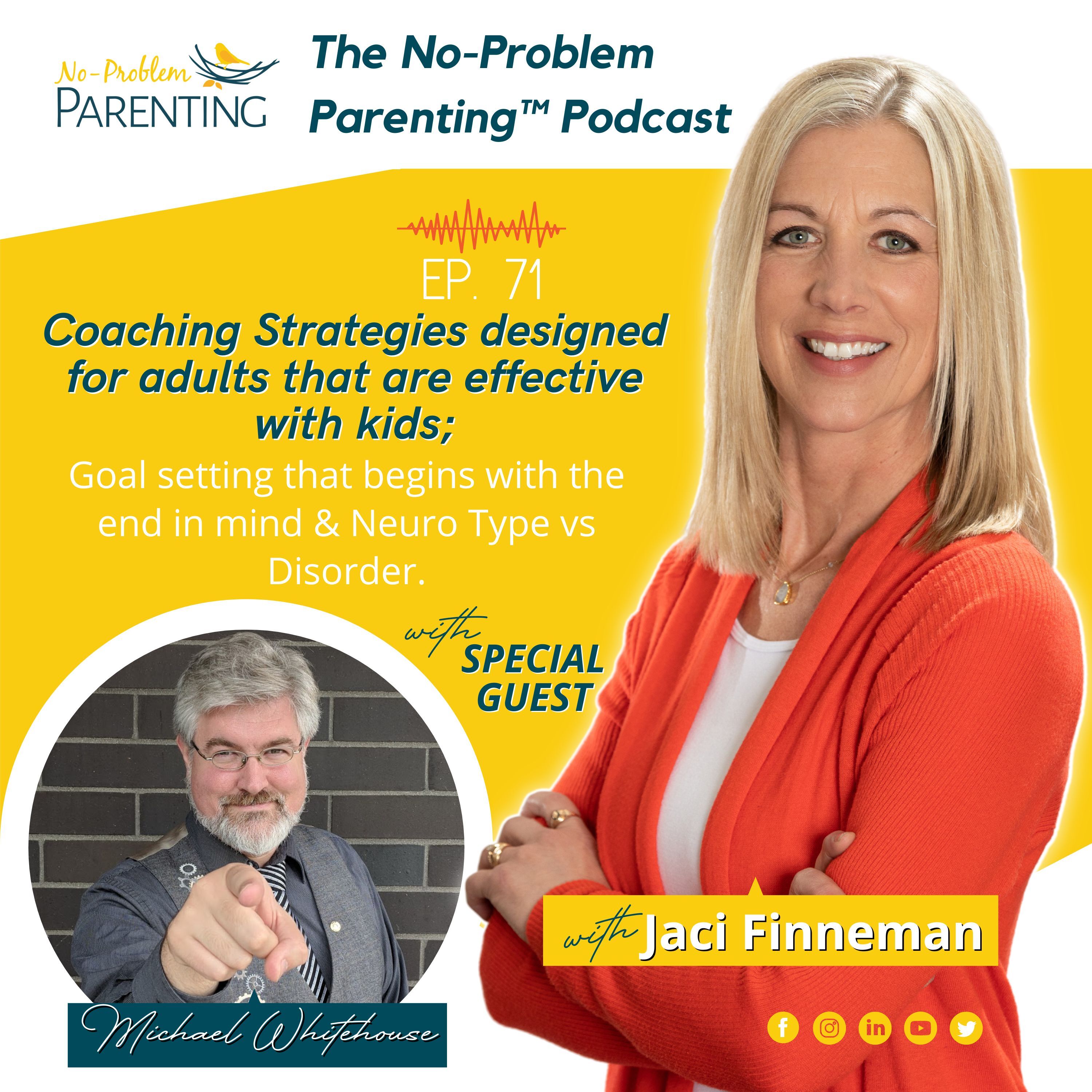 Welcome Back No-Problem Parents!
Have you ever thought about how parenting a child or teen is similar to coaching your clients or managing your employees?
Well, my guest today believes the same coaching strategies that are powerful to motivate 50 year old entrepreneurs are also powerful to guide a 7 year old child. He is experiencing the results of this right now in his life as a dad and a business coach.
For example, Michael says "Coaches work with adults to unravel limiting beliefs gained decades ago in childhood. Why not leverage their knowledge and prevent the limiting beliefs we instill in our children at the source."
Yep, that means YOU the parent can be the coach and set your kiddo's up for success in adulthood.
Our conversation touches on a number of parenting topics including mental health. Michael hopes to change the conversation around mental health "disorders" an instead consider our "NeuroType" aka ADHD (disorder) to ADHN (Neurotype).
Meet Michael Whitehouse. Michael is The Guy Who Knows a Guy.
In 2014, he came to Groton, Connecticut knowing no one at all except his fiancée and unborn daughter. A year later, after diving into networking with both feet, he was a major connector in the local community.
In 2020, he went global and began connecting entrepreneurs, investors, speakers and others around the world to people they need to know.
He offers his services as a networking concierge, making connections and building strategic alliances around the world.
He is the host of the daily Morning Motivation Podcast and The Power Lunch Live Show.
Today he applies what he has learned from talking to hundreds of coaches to
To learn more about Michael click on one of the following links:
Facebook: https://www.facebook.com/theguywhoknowsaguy
LinkedIn: https://www.linkedin.com/in/mwhitehouse/
YouTube: http://youtube.guywhoknowsaguy.com
TikTok: https://www.tiktok.com/@theguywhoknowsaguy
Want access to ALL of Jaci's favorite resources, trainings, parenting course and all things No-Problem Parenting?
Learn more at https://www.noproblemparents.com/
Ready to get started and become the confident leader your kids crave you to be?
Join our Private Parenting Community https://www.noproblemparenting.com/
Hugs and High Fives,
Jaci