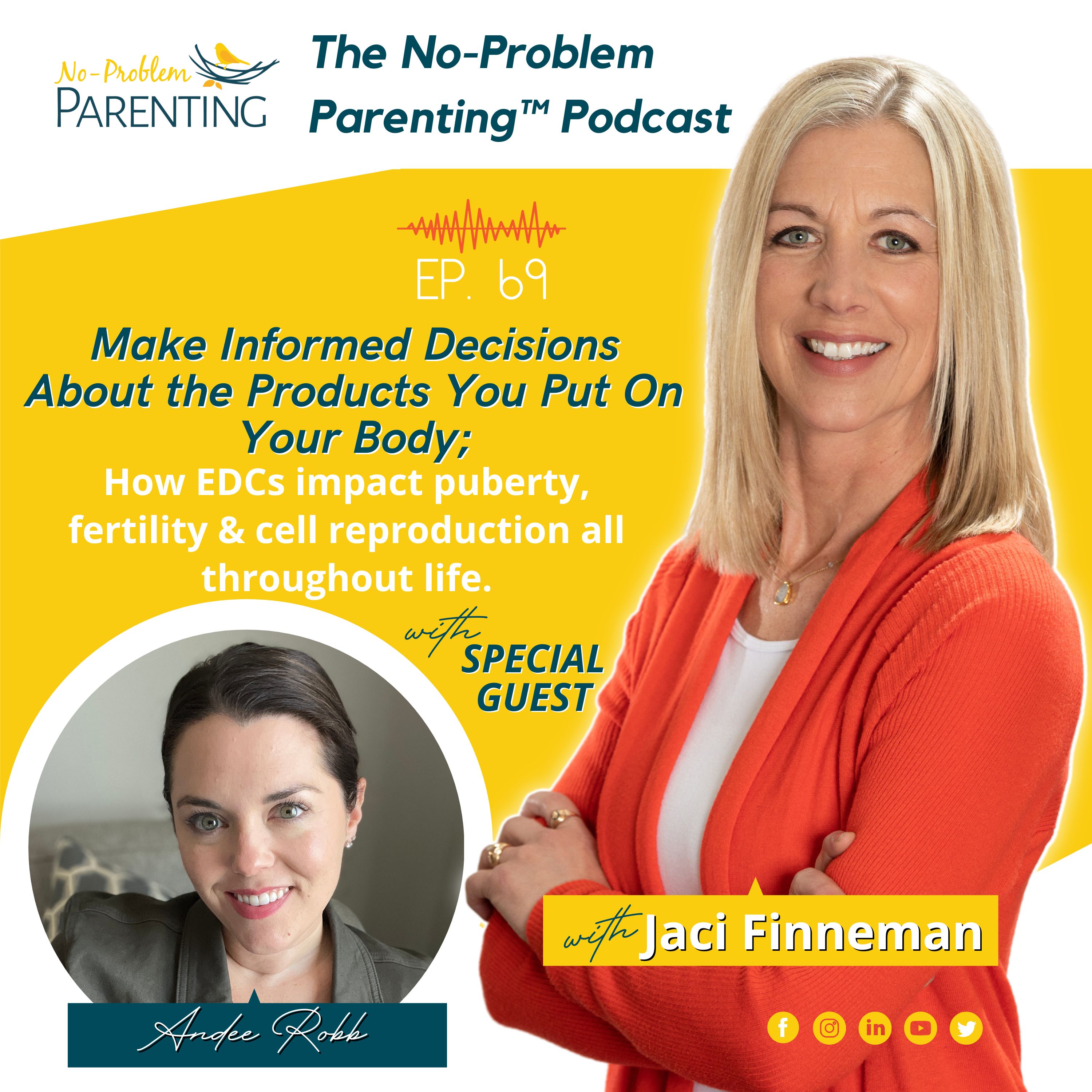 Welcome Back No-Problem Parents!
It can be exhausting and frustrating trying to find toxin-free, safe products like sunscreen, deodorant, cleaning products, and laundry detergents that are safe for our kids and family.
As parents, we want the best for our kids and we prefer to buy organic or toxin-free foods and products but it can be expensive and labels are sometimes misleading.
Today's guest shares;
How endocrine disrupting chemicals (EDCs) impact puberty, fertility and cell reproduction all throughout life

Ways to have comfortable and honest conversations with your children about personal hygiene (and what products to use / avoid based up on their impact to human health)

How today's beauty standards affect the mental health of young adults and,

Third-party resources and tools you can use to make informed decisions about the products you put on your body and use in your home.
Meet Andee Robb. Andee is a senior-level executive at JLL (Jones Lang LaSalle) with nearly 20 years of corporate real estate experience. Based in the Twin Cities, Andee is an advisor to national retailers across the U.S and Canada.
Chances are, if you've filled a prescription, gotten your hair cut, bought new gym shoes, ordered a frappuccino or eaten a giant burrito, then you've met some of Andee's top clients.
Andee's career began in the professional salon industry at the corporate level and after The Safer Salon Bill was passed in 2018, she became a Brand Advocate with a Santa Monica based retailer called Beautycounter.
Since then, Andee has educated hundreds of families on the health impacts of exposure to harmful ingredients in their personal care products and home environments.
In April 2022, Andee represented the state of Minnesota during Beautycounter's national lobbying day in Washington, DC where she brought several pieces of legislation before Congress that would place more health protective laws over the personal care industry.
Andee is originally from Duluth, Minnesota where she met her husband and together they are frazzled and exhausted parents to two Tweenage girls,
Get the Healthy Living App here: https://Freebie: https://www.ewg.org/apps/
Learn More About Beauty Counter Here use promo code: CLEANFORALL30 to get 30% off your first order.
Jaci's favorite products:
Order THE SOFTEST Skincare regiman:
https://www.beautycounter.com/jacifinneman?goto=/product/countertime-regimen-set
Order your Deoderant here: Deoderant  (for women, men and kids)
Order your Sunscreen here: Sunscreen  
The NEVER List download:
www.beautycounter.com/btc/tools/digital-assets/6T9EzyCAn3QymAU1mFWgra?ref=3771818
Follow Andee on Instagram: @becounterforgood
Website: www.becounterforgood.com
Want access to ALL of Jaci's favorite resources, trainings, parenting course and all things No-Problem Parenting?
Learn more at https://www.noproblemparents.com/
Ready to get started and become the confident leader your kids crave you to be?
Join our Private Parenting Community for just $397 or $47/month: https://www.noproblemparenting.com/
Hugs and High Fives,
Jaci