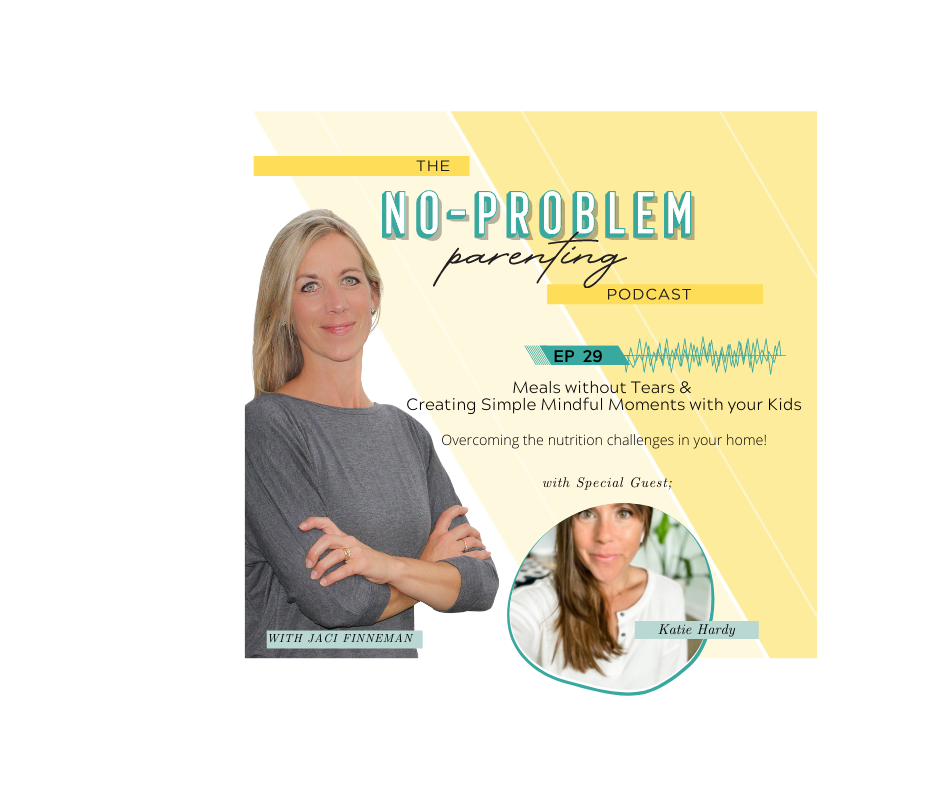 Welcome Back to The No-Problem Parenting Podcast!
Today my guest is going to talk with us about all things,
healthy diet and nutrition for our kids,
how to get our kids interested in eating healthy,
why modeling mindful eating is a mature choice that parents make and
she'll share the hard truth about how stress and hurry – using our busyness as an excuse for poor eating habits
can actually mean you are being lazy!?  Say what? 
Katie understands that convenience is important so she's gonna show us how we CAN feed our kids the easy snacks sometimes and feel good about it AND how we can prevent irritability and over active behaviors in our kids by choosing better go to snacks and meals.
And parents, remember that No-Problem Parenting is here to help YOU become the confident leader your kids crave you to be!  So – This episode is kind of a two-fer.  Katie Hardy TEACHES WOMEN HOW TO CREATE A HEALTHIER MIND SO THEY CAN BUILD THEIR HEALTHIEST BODY – WITHOUT FEELING OVERWHELMED OR OVER IT and how you can help your kids want to eat healthy snacks and meals.
Are you a parent who struggles with your own diet and body image? Do you have a hard time modeling health and wellness to your kids?  
As CEO & Founder of WholeHardy Health, LLC, Katie's mission is to reverse common culture's health perspective from one of basing your happiness & worth on your weight or size, to one of empowered wellness, mental resilience, and body respect. This is all possible WITHOUT restrictive dieting, hour-long workouts, or awkward meditation cushions.
Her  proprietary method called the TripleFit Wellness System teaches you how to get mentally, physically, and spiritually fit using theories & practices proven in neuroscience, biology, and theology - all customized to your unique personality, schedule, challenges, and goals.
With mind, body, and spirit certifications & trainings from Duke Integrative Medicine, mindbodygreen, Fit4Mom, Community Christian Church, and more, Katie serves up the wholehearted wellness tools you crave.
Check out Katie's podcast: The Inside Out Wellness Podcast
Find her on your favorite social media site @wholehardy or
Go to https://wholehardy.com/ to get your free Quarantine Comeback Starter Kit
Parents, we CAN overcome our nutrition challenges!
YOU GOT THIS!
Jaci