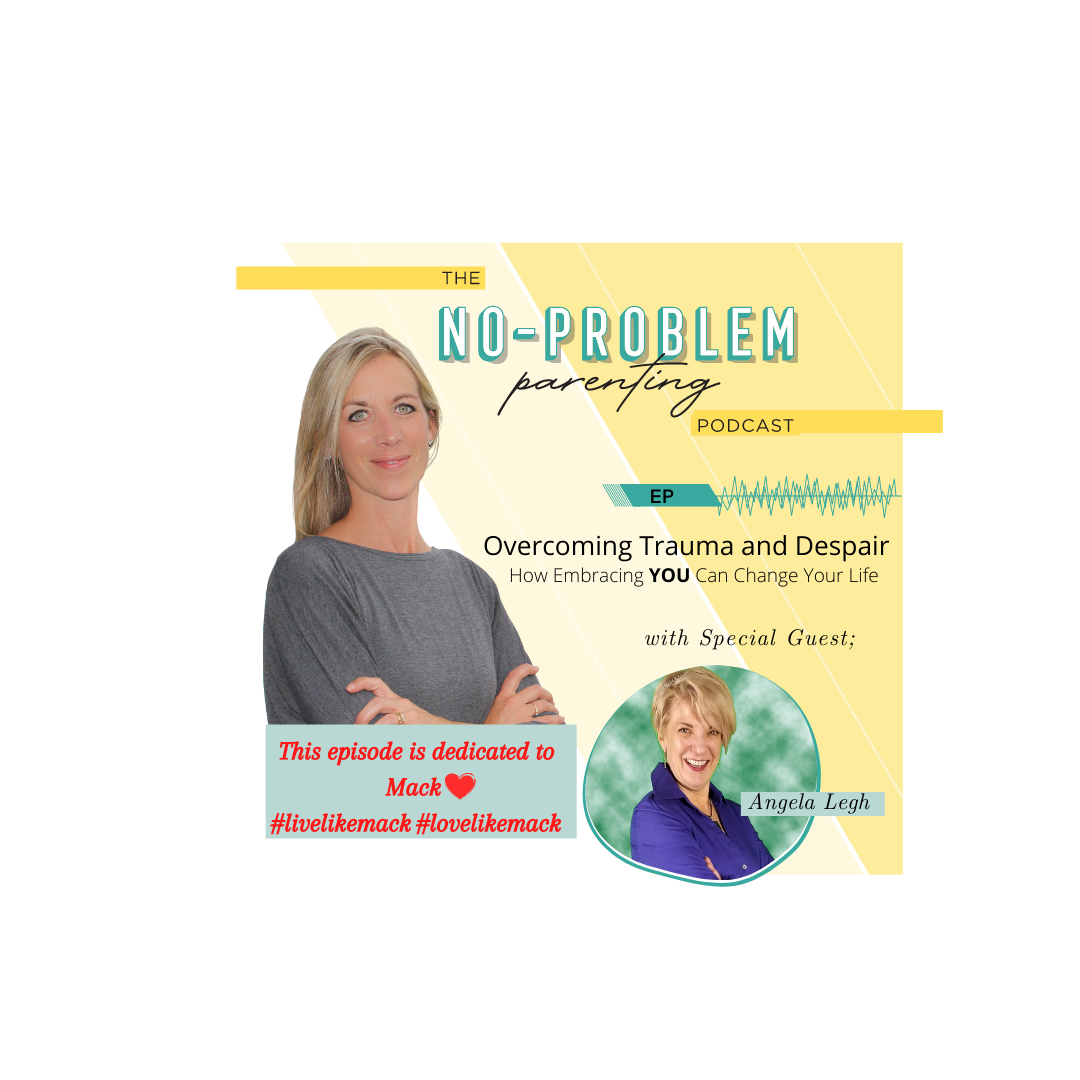 Welcome back to the No Problem Parenting Podcast, where we choose to deal with and overcome the emotional and behavior challenges in our homes. 
Today's episode is about overcoming trauma and despair. The importance of self-love, and how embracing YOU embracing yourself begins with acknowledging your feelings and tending to them – so that you can create the life you and your children deserve.
My guest today is Angela Legh a survivor of trauma, abuse, fires and a near drowning all of which inspired her to become a writer and advocate for others who have endured tragedy.
She is an author whose mission is to help children thrive in emotional well-being by developing a strong internal emotional strength. Her books include self-help collections, about the power of forgiveness and learning to surrender to life and more recently a fairytale series titled The Bella Santini Chronicles.  
Angela is also a mentor.
While writing The Bella Santini Chronicle's  Angela realized that she could not help children get in touch with their inner magic without paying attention to the needs of their parents. Helping children thrive in emotional well-being while their parents were overstressed, made it harder for children to navigate their emotions especially through their teenage years. So, Angela began helping adults tap into their inner magic through on online course and one-on-one mentoring.
Angela supports teens and parents by exploring and coaching on complex topics, such as child abandonment, bullying, sibling rivalry, and good vs. evil. Her clients build emotional muscle and set a path of emotional well-being that allows them to navigate the difficult teen years without isolating themselves or even worse, seeing suicide as a solution to their problems.
Suicide is the second leading cause of death for youth ages 10-24. The Substance Abuse Mental Health Services Agency (https://www.samhsa.gov/ )states, the causes of suicide are complex and determined by multiple combinations of factors, such as mental illness, substance abuse, painful losses, exposure to violence, and social isolation. Social isolation significantly increased under the Covid-19 lockdown and the effects still prevalent today.
Angela understands firsthand the pain and despair of trauma, loss and abuse. Her stories and mentorship programs were developed to help children and parents who because of their environment and/or their past, do not feel worthy or that they belong.
Have you been a person that has helped someone find value in themselves?  Maybe you've helped a family member, friend or even a complete stranger by simply acknowledging or noticing them? Every day, whether you have experienced a traumatic relationship or not, each one of us has the ability to be kind and intentional with the people around us.
Saying hello to someone you don't know, striking up a conversation with a classmate that seems shy or reserved or even getting to know the kid that always seems angry or has been tagged as the bully in school.  Sometimes your random act of kindness or compliment affects that person way more than you could ever know. Whether or not you can begin to understand what the person is going through, take the time to get to recognize them.
Like Angela, our friend Mack was one of those people who acknowledged and noticed others too. Even though he didn't experience pain or abuse like Angela had, from an early age, Mack knew his purpose was to help others and he went out of his way to positively impact all those he met.
Tragically we lost our dear Mack in a car accident just a couple of weeks ago.
 I'm dedicating this episode to Mack and to all of you who take the time to notice, acknowledge and make time for the people in your life, that others don't. Our world needs more people like Mack. #livelikemack #lovelikemack
My very sincere Thanks to Angela for recording this episode with me even though I wasn't feeling very up to it that day.  She helped me acknowledge my grief and persevere. 
For more information on how Angela can help you and your kiddo's and to order her books, go to https://angelalegh.com/
Click these links to find her on your favorite social media site.
Https://facebook.com/angelaleghauthor
Https://Instagram.com/angelalegh.author
Https://LinkedIn.com/in/angela-legh-6b913b184
Twitter @BellaSantinbo1
And remember parents, "On particularly rough days, when you feel like you can't possibly endure, remember that your track record for getting through those days is 100%, and that's pretty darn good.
Hugs and High Fives,
Jaci