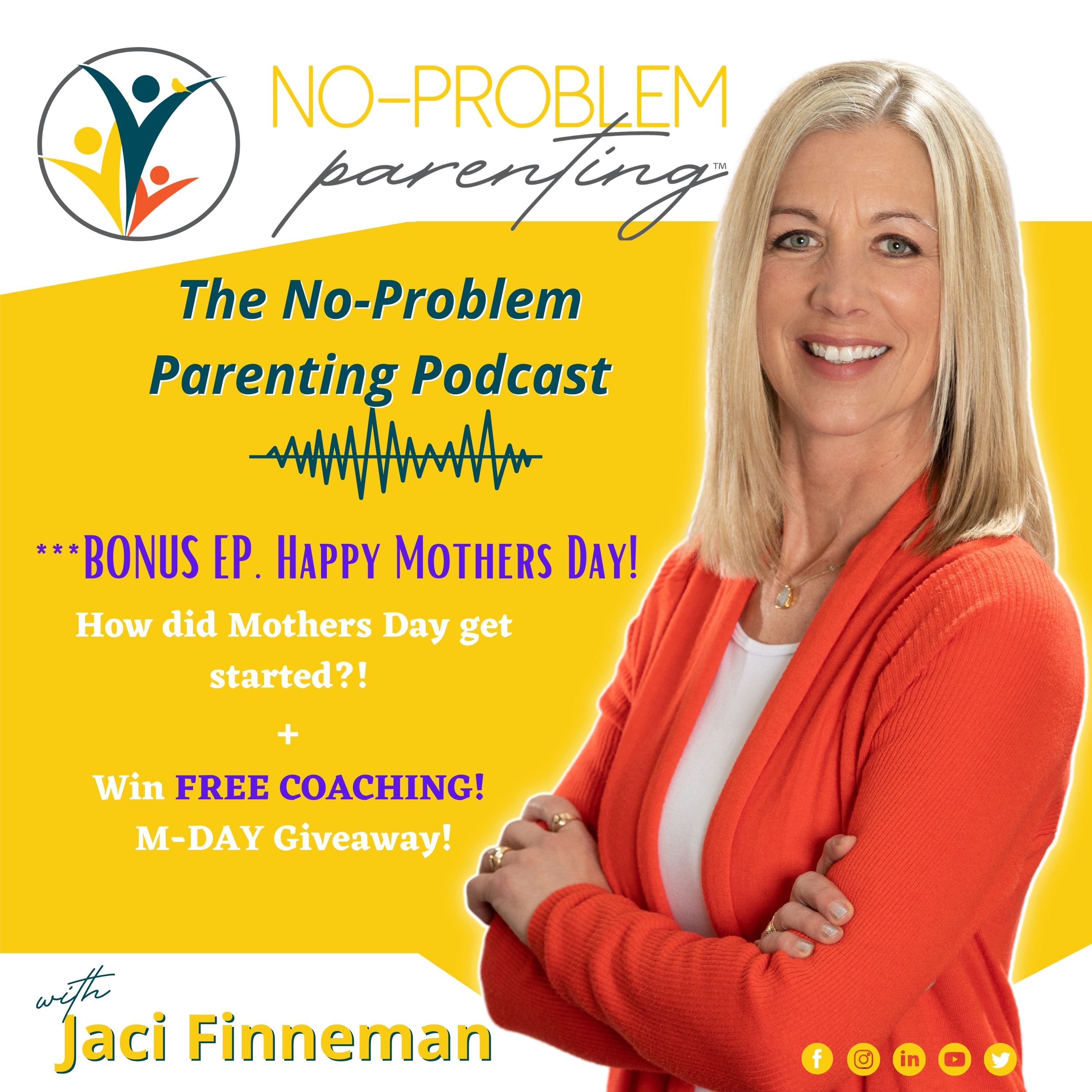 ***BONUS EP. How did Mothers Day get started?! + Win FREE COACHING! M-DAY Giveaway!
Welcome Back, No-Problem Parents!
Today is a bonus episode with a chance to WIN 1 of 3 prizes!  Happy Mothers Day Mama's!
Every day could be Mothers Day in my book but I love the story of how and why Mothers Day was started in the USA and so I thought I'd share that with you today! 
Before I get into that, I'll share how you can WIN one of three Mothers Day prizes.
And Dads, this is an opportunity for you to gift your wife or mother of your children some mama support from No-Problem Parenting! So complete the 3 steps and enter to win for her!
Enter the Mothers Day Giveaway TODAY Wednesday May 4th – Sunday May 8th
First Place – A One year membership to the No-Problem Parenting Community and 1 60 minute Strategy session.  The membership includes the on demand online Becoming a No-Problem Parent Course!  ($700 value)
Second Place – Scholarship to the No-Problem Parenting Community which includes the online course and one year membership ($397)
Third Place – 30 minute coaching session to problem solve a current behavior problem that's frustrating or worrying you! ($197)
ENTERING TO WIN IS SO EASY!
Step 1: Go to Apple Podcasts and Leave a Written Review for The No-Problem Parenting Podcast, make sure you sign your first name so I know who your are and I don't just see your email address as your name.
Step 2: Screenshot your review and then click submit (if you submit before you take a screenshot I may not see it for a few days so be sure to screenshot your review BEFORE you click the submit button)
Step 3 Go to @noproblem parents on FB or IG and post your screenshot with the hashtag #mothersday
That's it!  You're all done! Good luck!
SOMEONE'S GONNA WIN! MAY AS WELL BE YOU!
So how did Mothers Day start?  You might be surprised to learn that it wasn't simply to treat Moms to a day off or give them a special card or gift.  The creation of a national Mother's Day is primarily attributed to three women: Ann Reeves Jarvis, Julia Ward Howe, and Ann's daughter, Anna M. Jarvis, who championed efforts toward better health, welfare, peace, and love. It essentially began as a women's movement to better the lives of other Americans. Listen in, it's a great story of how the day finally came to be and how it almost ended.
For all the moms listening, Happy Mothers Day.  I hope you are able to celebrate yourself today whether that means enjoying your children and doing something fun with them, or spending time with your friends or volunteering or even spending some time alone, relaxing and unwinding.  Whatever your plans, or lack thereof, I hope you are able to acknowledge yourself and give yourself some grace and understanding.
How will you spend your Mothers Day?  Share what you did in the comments of this episode.  I'd love to hear how you honoring yourself, your own mother or the mother figures in your life.
To learn more about how YOU can become a No-Problem Parent, go to www.noproblemparenting.com
Hugs & High Fives,
Jaci