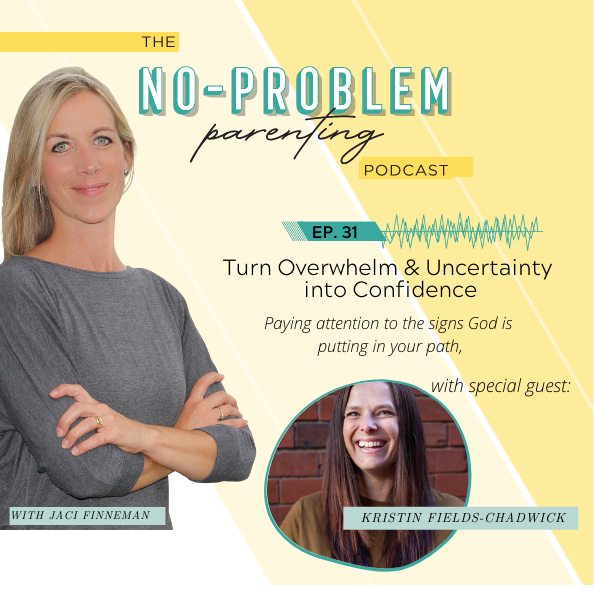 Welcome Back No-Problem Parents! 
Meet Kristin Chadwick – Kristin was literally brought to her knees with overwhelm and uncertainty after the birth of her twins and parenting four children under the age of four.  
With the help of friends and a MOPS group Kristin not only started to pay attention to the signs God was sending her, she paid close attention to the things that otherwise annoyed her and that she previously disregarded.  It was in those things Kristin discovered what she needed. 
Paying attention to the signs that God and the universe are putting in our path can help us discover our identity, our purpose in this world and help us become the confident person God created us to be.
Kristin Fields Chadwick, owner of a boutique style podcast production company, host of Wholistic Hearts podcast and a Holy Spirit Led Life Coach, is a mama of four kiddos including twins and married to her hubby, Joshua for over fifteen years.
To learn more about a Mops group in your area:  https://www.mops.org/
To get in touch with and learn more about Kristin visit her website: https://kristinfieldschadwick.com/
Or find her on your favorite social media app:
IG: @KristinFieldsChadwick
FB: @KristinFieldsChadwick
Private FB Group MIND BODY SPIRIT Holistic Faith for Moms https://www.facebook.com/groups/mindbodyspiritholisticfaithformoms
Find the Wholistic Hearts Podcast on all major podcast platforms
You Got This Parents!
Learn more about why the Goldfinch is the logo for Hello World at the end of this episode.
Hugs and High Fives ~
Jaci