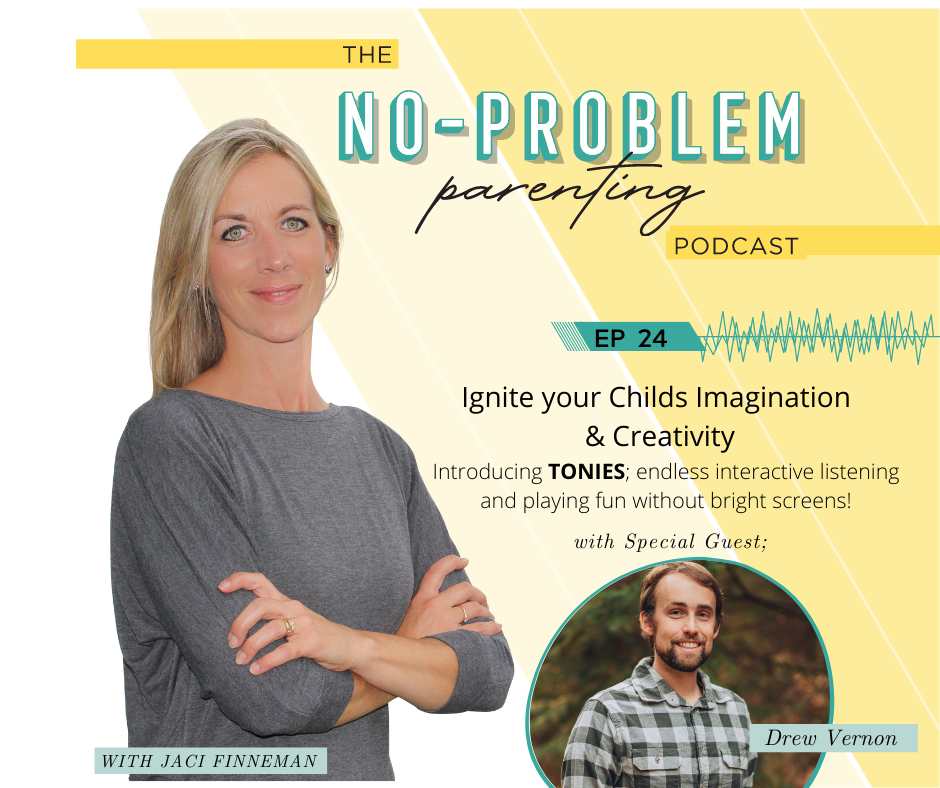 Hey Parents! Welcome back to the No-Problem Parenting Podcast, Where we choose to deal with and overcome behavior problems in our home.
Are your preschoolers and elementary aged children constantly asking for screen time? 
Do you wish there was another product or device out there that your kids would be just as or even more excited about than their Ipad or video game?
Well you are in luck!   Today I'm speaking with Drew Vernon, Marketing Director at Tonies -  an alternative to Alexa for parents looking for audio storytelling without the Big Brother link.
Tonies sells its brightly colored Toniebox Smart Speakers, encouraging listeners ages 3 and older to play imaginatively. To date, the company has sold 1.7 million Tonieboxes.
Drew is much more than just the marketing guy, he is a former child and a dad. His passion for his family and children is the reason why he's at Tonies.
Drew is going to introduce us to this NEW product that offers an alternative to screen time.
We'll talk about why removing the screen is critical to our kids creative development process and how we can use the power of storytelling to empower our kids to be creators, authors and performers.
Get ready  to deal with and overcome another parenting challenge in todays episode of the show.
Enter to win a free Toniebox by doing these 3 things:
1) "LIKE" this episode
2)  Share this episode with your friends and family
3) Comment on this episode #tonies
And your name will be entered in to the drawing.  We'll be giving 1 TonieBox away on August 5th so be sure to get entered right away for your chance to win!
To check out the Toniebox and Tonies figures/books/resources etc, go to https://us.tonies.com/
Parents: Join the Toniebox USA for Parents on Facebook: TonieboxUSAforparents
Teachers: Join the Tonies for Teachers on Facebook: Toniesforteachers
Tonies on Instagram click here: https://www.instagram.com/tonies.us/
Tonies on Facebook: https://www.facebook.com/tonies.us
And finally, to get more information on how you can bring Tonies into your classroom, daycare, homeschool program or company, email Drew at; drew.vernon@tonies.com
Give your kids an opportunity to use their imagination and creative play without the screen time and share your experiences with us!  We'd love to hear them.
HUGS & HIGH FIVES!
Jaci