Hey There Parenting Peeps! Welcome to the No Problem Parenting Podcast! Meet Jaci Finneman, the heart and soul behind No-Problem Parenting™ and your go-to parenting advocate. From toddler tantrums to teen eye rolls, attachment breaks, explosive meltdowns, and overwhelmed stressed-out parents, Jaci's been rocking this parenting gig for over 30 years, and she's here to share the real-deal tips and tricks outside of the therapy room. Subscribe now, strengthen your family connection, and bring the fun back to parenting. #Parenting #NoProblemParents #ParentingSuccess #NoProblemPodcast You Got This! No-Problem!
Episodes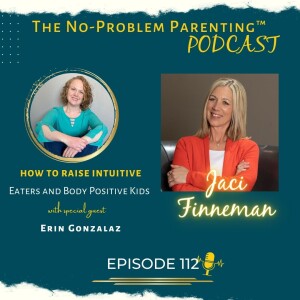 Tuesday Dec 27, 2022
Tuesday Dec 27, 2022
Welcome Back No-Problem Parents!
How do we end the cycle of dieting that so many women over generations have struggled with?
How do we create healthy relationships with food without feeling like we are letting go of health?
How do we navigate kids who are struggling with 'picky eating'?
How do you respond to kids when they call themselves or someone else talks about their body in a negative way(i.e. calling them fat)?
How do we prevent kids from developing an eating disorder?
Meet Erin Gonzalez. Erin is a registered dietitian, Certified Eating Disorder Specialist, and Certified Intuitive Eating Counselor practices utilizing a non-diet, Intuitive Eating, weight-neutral approach.
Erin's own personal struggles with food and her body led her to become a registered dietitian. After realizing the traditional approach to nutrition was not working long-term for herself or her clients Erin embarked on a whole new journey of understanding how our relationship with food and our body shapes our eating behaviors.
Erin's passion lies in helping others free themselves from rigid food rules, relearn how to listen to our own internal hunger and fullness cues and find a way of eating and moving that feels best to each person. Through her company Erin Gonzalez Nutrition LLC, Erin coaches clients through the Intuitive Eating process so they can become the expert in their own bodies again.
Learn more about Erin by clicking one of the links:
erin@eringonzaleznutrition.com
5 Top Secrets to Breaking the Binge Eating Cycle: https://view.flodesk.com/pages/5f6aab1d4b0d0b6f27f5fe0d
Hunger-Fullness Scale and Awareness Journal: https://view.flodesk.com/pages/60044146593be0a2f268e100
_____________________________________________________________________________________________
Are you ready to become a No-Problem Parent? Get Me Started!
Have you heard about our NEW BOOK! No-Problem Parenting; Raising Your Kiddos with More Confidence and Less Fear! Click Here to Purchase the Book and GET FREE SHIPPING  Your Copy
Want access to ALL of Jaci's favorite resources, trainings, parenting course and all things No-Problem Parenting?
Learn more at https://www.noproblemparents.com/
Follow us on FB
Follow us on IG
Follow us on LinkedIn
Hugs and High Fives,
Jaci